creating memories on the gold coast since 2000
PROUDLY AUSTRALIAN MADE, OWNED & OPERATED
The Lady was built in the historic town of Mannum on the Murray River in South Australia. She is a 130-tonne steel hulled commercial catamaran. The journey sailing through Bass Strait, along the East Coast of Australia, took 18 days before she arrived on the Gold Coast in 2000.
The Lady began her life in Queensland hosting corporate functions, whilst being moored at Sanctuary Cove on the northern end of the Gold Coast. She graduated to becoming a specialist wedding venue and has since hosted 800+ weddings. The Lady now remains comfortably berthed at Sanctuary Cove's World Class Marina.
New ownership of the vessel took effect in 2017 and we have consistently worked to maintain her to pristine condition. We are proud to present our floating venue The Lady and guarantee a pleasurable and safe journey.
If you are looking to host a Birthday Party, Dance Party, Corporate Function or other Bespoke Event, take a look at our Private Function Cruises page to view our charter fees and menus. 
Getting Married? We offer a unique and private venue to create your wedding day vibes. We have specifically designed our wedding packages to ensure your wedding day is stress-free. Take a look at our Pop-up Wedding and Deluxe Wedding Cruise packages.
CONTACT US ON M: 0416 199 935
@goldcoastcruisesthelady
Pier F10 Sanctuary Cove Marina QLD
Access via Pier F ramp in front of the Maritimo office.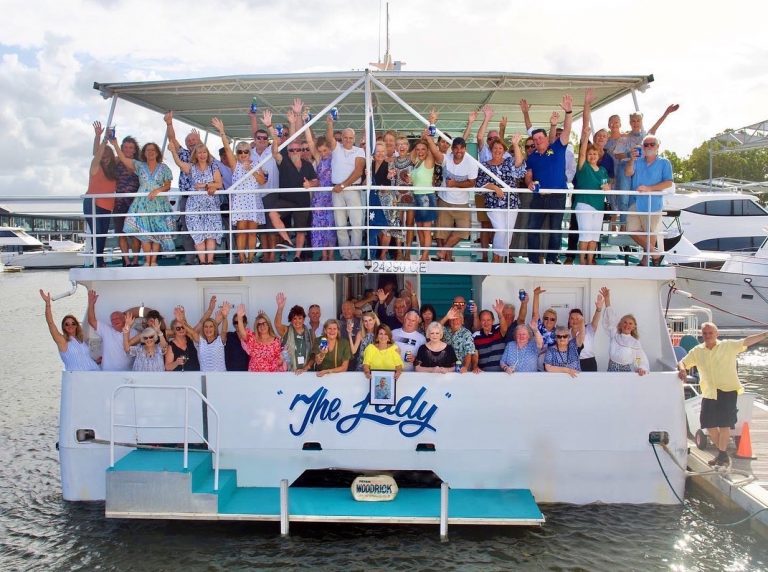 the making of lifelong memories awaits...
Request more information to create your own